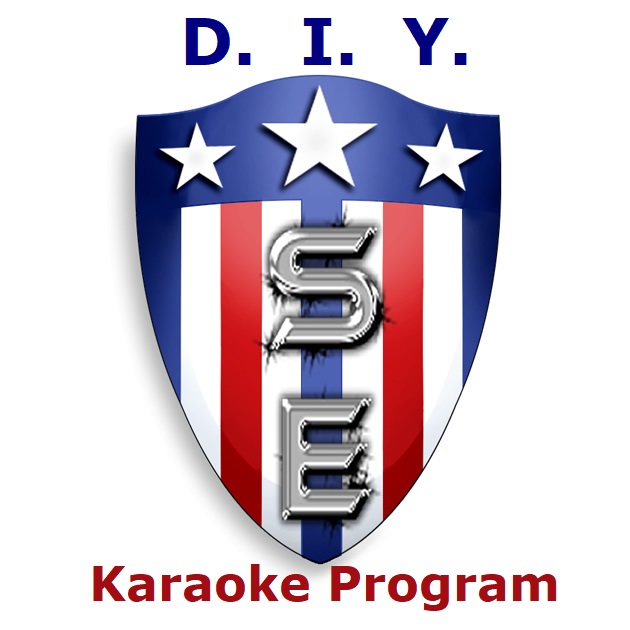 DYI KARAOKE
------------------------------------------------------
Have you ever wanted to run your own Karaoke show in Des Moines? Do you have a great place in mind for Karaoke? But you just do not have the money to buy the speakers, amp, mics, computer, oh and don't forget LEGALLY buy/license (see LEGALITY NOTE below) the thousands of songs in Karaoke music you would need to compete in the Des Moines market. Or maybe you already have your own DJ equipment, but just not the Karaoke music library/computer.
Well NOW you can just book a show you wish to run on a Sunday - Thursday (most likely not Friday/Saturday currently) and we will/can do most of the work and you just run the show and make money.
NOTE: This option may NOT currently available for Friday or Saturday nights, due to our high volume of shows on the weekends and the limited number of software (music) licenses that we pay for. We are offering this chance for you to make your own money because we cannot currently keep our 5 licensed systems fully busy on the weekdays and there is money potentially for the making out there!!! We do not have the time to go book all the shows ourselves.
LEGALITY NOTE: Keep in mind, you cannot just "Legally" buy a computer full of or a hard drive of Karaoke music, without paying the proper legal licenses or own the Physical Karaoke CDGs, to use it in a public setting for profit. It is also illegal to use YouTube Karaoke videos in a public setting for profit. Companies currently doing this can be subject to fines per use of song and the establishment (bar) can also be subject to these fines.
TO GET STARTED:
1) First have a list of bars/places you wish to do a show at in the Des Moines area (includes Ankeny, Altoona, Bondurant, Elkhart, Carlisle, Norwalk, Pleasant Hill, Johnston, Urbandale, West Des Moines, Clive, Waukee, Van Meter, De Soto, Grimes, Granger, Madrid, Woodward, Dallas Center and Adel). NOTE: Indianola, Ames, Winterset, Polk City, Slater, Cambridge, Perry, Panora, Boone and other nearby towns will require additional fee for mileage.
2) These places CANNOT currently be doing karaoke with Showtime Entertainment or ANY OTHER karaoke company. We are NOT gonna step on peoples toes and livelihood just so you can do a show.
3) You MUST have reliable transportation to get yourself to the show. We set up all the equipment for you. You just walk in and start the show, run it, get paid and the leave when the show is done. No setting up or tearing down equipment in most cases. NOTE: However, if you already own the equipment, obviously you do the work and just rent the computer with our music library and songbooks.
4) You are responsible for getting paid by the bar/place and doing your own financials. Option: We can collect the money also and have the check made to Showtime, but you will be charged an extra fee that will cover applicable federal and state taxes that we have to report. This varies on what you are charging the bar. The bar/place basically rents the equipment from us, then we will pay you to run it.
5) If you are collecting your own money, you will pay Showtime Entertainment (Us) an agreed upon fee before every show (Sun-Thurs) you run for use of the Equipment/Music license/Set Up/Tear Down, etc... The bar/place will pay YOU at the end of the night for your show. If we ever have a weekend system available, the rate for the rental will be more than a weekday. We will not set up a show before we are paid in advance, so please set aside the initial money to pay us for the rental. Again, mileage fee may also be applicable depending upon the town. We prefer do keep it within the Des Moines area.
6) Due to liability reasons with the equipment, we always do our own hauling/set up/tear down. You will NOT be able to take the equipment and do that part yourself. Sorry. The exception is if you already own the equipment.
What you need to know...
Most weekday shows average $125 to $150 fee in the Des Moines area, so you can plan on making $50 or more, depending upon what you charge. Remember, you do NOT have to haul, set up and tear down equipment. We can discuss weekend rates if a system is ever available. This is great for you, because some other Karaoke companies in Des Moines have their employees do their own set ups.
This would be your business so you go in under your own business name like Kim's Karaoke, for example. Also, if you are collecting the money, and if they pay by check, you would need to have a bank account set up to deposit/cash your checks. You are also responsible for claiming your own income and reporting the proper taxes. Renting a system from us is tax deductible for your business. If you choose to not pay taxes that is solely upon you, if you decide to do this under the table. We do NOT recommend this.
That's about all for now, so GET STARTED!!
If interested, call/text Rick Ludwig at 515-208-1782

One of the BEST Des Moines DJ services is Showtime Entertainment of Iowa DJs, Karaoke, Singing Telegrams, Vocalists & more...
djs in des moines, dj in des moines, des moines djs, dj iowa, djs iowa, iowa dj, iowa djs, des moines dj service, des moines disc jockey, dj service in des moines, iowa, dj service des moines, disc jockey service des moines, iowa, live music des moines, iowa, singer, entertainment, weddings des moines, iowades moines dj, iowa dj, des moines djs, iowa djs, des moines disc jockey, iowa disc jockey, iowa disc jockeys, des moines disc jockeys, djs in iowa, djs in des moines, dj in iowa, dj in des moines, iowa entertainment, des moines entertainment, des moines weddings, iowa weddings, iowa wedding, des moines wedding, wedding des moines, wedding iowa, wedding in des moines, wedding in iowa, weddings in iowa, weddings in des moines, iowa karaoke, dj des moines, dj iowa, djs iowa, djs des moines, disc jockey des moines, disc jockey iowa, entertainment iowa,entertainment des moines, iowa, dj central iowa, disc jockey central iowa, iowa bride, des moines bride, bride iowa, bride des moines, vendor iowa, iowa vendor, vendor des moines, des moines vendor, school, prom, homecoming, birthday, anniversary, graduation, reunion, club, fund-raiser, fund raiser, bar mitzvah, bat mitzvah, bar, restaurant, nightclub, tavern, lounge, affordable dj, affordable djs, affordable disc jockey, high quality dj, high quality djs, high quality disc jockey, game show, talent show, lip sync, emcee service, public address, ankeny, altoona, ames, west des moines, windsor heights, pleasant hill, indianola, carlisle, grimes, waukee, clive, urbandale, johnston, norwalk, cumming, fort dodge, marshalltown, newton, pella, knoxville, chartion, ottumwa, oskaloosa, grinnell, cedar rapids, iowa city, cedar falls, iowa falls, mason city, story city, boone, ogden, adel, de soto, winterset, polk county, story county, dallas county, marion county, warren county, Alabama, Alaska, Arizona, Arkansas, California, Colorado, Connecticut, Delaware, DC, Washington D.C., Florida, Georgia, Hawaii, Idaho, Illinois, Indiana, Iowa, Kansas, Kentucky, Louisiana, Maine, Maryland, Massachusetts, Michigan, Minnesota, Mississippi, Missouri, Montana, Nebraska, Nevada, New Hampshire, New Jersey, New Mexico, New York, North Carolina, North Dakota, Ohio, Oklahoma, Oregon, Pennsylvania, Rhode Island, South Carolina, South Dakota, Tennessee, Texas, Utah, Vermont, Virginia, Washington, West Virginia, Wisconsin, Wyoming business